Salesforce Business Analyst (BA) Interview Questions & Answers.
Q1. What is a Salesforce Business Analyst?
Salesforce business analyst is a project-based, business-improvement role. Business analysts help guide businesses to improve business processes and efficiency in Salesforce. They elicit, document, and analyze requirements around business challenges, and then produce data-driven solutions.
Q2. What is Enterprise Analysis?
Enterprise Analysis means to understand an organization's structure, including who reports to whom, and the functions and interactions of departments within the organization. The information you gain here helps your team successfully collaborate and communicate.
Q3. What is Strategy Analysis?
Strategic analysis refers to the process of conducting research on a company and its operating environment to formulate a strategy.
Q4. What is Stakeholder Analysis?
Stakeholder analysis is a process of identifying these people before the project begins; grouping them according to their levels of participation, interest, and influence in the project; and determining how best to involve and communicate each of these stakeholder groups.
Q5. What is Requirement Elicitation?
Requirements elicitation is the practice of researching and discovering the requirements of a system from users, customers, and other stakeholders.
Requirements Elicitation is typically performed in three general stages.
Prepare for elicitation – gather a comprehensive and accurate understanding of the project's business need.
Conduct elicitation – meet with stakeholders to elicit information regarding their needs and the needs of the business.
Confirm elicitation results – validate that the stated requirements match the problem and needs and ensure that the understanding conforms to the actual desires or intentions of the stakeholders.
Popular Salesforce Certification Guides
---
Salesforce Business Analyst Interview Questions & Answers
---
Q6. What are some of the Elicitation Techniques?
Some of the commonly used Elicitation Techniques are:
Brainstorming
Document analysis
Focus groups
Interface analysis
Interviews
Observation
Process modeling
Prototyping
Requirements workshops
Surveys/questionnaires
Q7. What is a RACI Chart?
RACI stands for responsible, accountable, consulted, and informed. It's a matrix that delineates who is responsible for what in the context of the business analysis effort.
Responsible: A person who performs an activity or does the work.
Accountable: A person who is ultimately accountable for the outcome
Consulted: A person who needs to provide feedback or contribute to the activity.
Informed: A person who needs to know of a decision or action.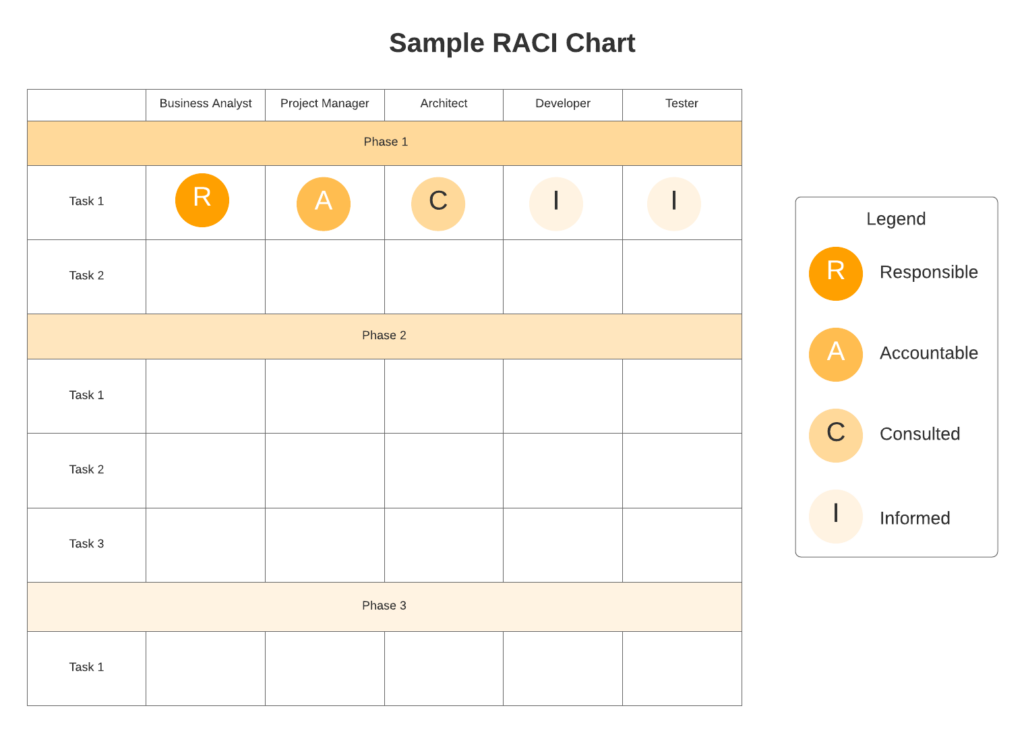 Q8. What is a User Story?
A user story describes the functionality that a business system should provide so that it can be developed. It is often called a ticket or work item. The format is "As a…. I want to… So that I can…"
There are three components of every user story.
Who: From whose perspective (aka user persona) within Salesforce will this user story be written?
What: What goal will be accomplished or implemented within the Salesforce org as the result of the user story?
Why: Why does the user need the Salesforce functionality or feature outlined in the user story?
A successful user story is (INVEST):
Independent: User stories should be independent and not overlapping in concept with another user story.
Negotiable: A user story is not a contract. A story is an invitation to a conversation. It captures the essence, not the details.
Valuable: The user story needs to be useful to the end user. If a story does not have value, it should not be created.
Estimable: A successful user story's timeline can be estimated. An exact estimate is not required, but just enough to help prioritize and schedule the story's development/implementation.
Small: Most effective user stories are small. Smaller user stories tend to get more accurate timeline estimates. Remember, the details can be elaborated through conversations.
Testable: A good user story is testable. For a successful story, anyone on the project team can look at the user story and say, "Yes, I understand this user story so well that I can write acceptance criteria for it."
Q9. What is a Use Case?
A use case identifies, defines, and organizes the system requirements from the perspective of a user.
Q10. What is a Functional Requirements Specification (FRS) document?
Functional requirements specification (FRS) document details the business requirements that are defined from an end user or business perspective. It will specify the expected outcomes.
Q11. What is a System Requirements Specification (SRS) document?
System requirements specification (SRS) document details how the complete system should function and enumerates hardware, software, and functional and behavioral requirements of the system
Q12. What is a Gap analysis document?
GAP Analysis document describes the gaps between the current processes and the intended processes.
Q13. What is Requirement Traceability Matrix?
Requirement Traceability Matrix or RTM is a document that captures all requirements along with respective project deliverables such as design documents, test cases. A requirements traceability matrix may be used to check if the current project requirements are being met.
Q14. What is Pareto Analysis?
Pareto analysis is a formal technique useful where many possible courses of action are competing for attention. In essence, the problem-solver estimates the benefit delivered by each action, then selects a number of the most effective actions that deliver a total benefit reasonably close to the maximal possible one.
Q15. What is MoSCoW?
MoSCoW prioritization or MoSCoW analysis is a prioritization technique used in management, business analysis, project management, and software development to reach a common understanding with stakeholders on the importance they place on the delivery of each requirement.
The term MoSCoW itself is an acronym derived from the first letter of each of four prioritization categories: M – Must have, S – Should have, C – Could have, W – Won't have.
Q16. What is Business Analyst's role in UAT?
Some of the key responsibilities of Business Analyst during UAT phase are:
Validate test data setup
Identify UAT testers
Coordinate UAT sessions
Write UAT test scripts
Triage UAT defects
Get UAT sign off
Additional Information
This article will be updated soon, please come back for more Salesforce Business Analyst Interview Questions & Answers!
Additional Salesforce Interview Questions