How to Pass Salesforce Health Cloud Accredited Professional Exam?
1. About the Salesforce Health Cloud Accredited Professional Exam
The Salesforce Health Cloud Accredited Professional exam is intended for an individual who has broad knowledge of the Health Cloud platform and its capabilities, understands Health Cloud terminology, and can troubleshoot and solve basic platform issues.
| | | |
| --- | --- | --- |
| | Content | 60 multiple-choice/multiple-select questions |
| | Time allotted | 90 minutes |
| | Passing score | 63% (38 out of 60 questions) |
| | Exam Fee | USD 150 plus applicable taxes |
| | Retake Fee | USD 75 plus applicable taxes |
| | Prerequisite | None |
2. Exam Outline
| Topics | Weighting | Questions |
| --- | --- | --- |
| Health Cloud Basic Setup | 21% | 14 |
| Security | 5% | 3 |
| Care Management (Care Coordination) | 12% | 7 |
| Care Programs (Patient Services) | 10% | 6 |
| Providers | 12% | 7 |
| Interoperability / Integration | 12% | 7 |
| Utilization Management / Persona Payer | 12% | 7 |
| Intelligent Sales / Med Device | 6% | 3 |
| Migration / Migrating to Health Cloud | 10% | 6 |
3. Salesforce Health Cloud Accredited Professional Exam Study Course
Accredited Professional Exam curriculum is available on Salesforce Partner Learning Camp. Please refer to Accredited Professional Partner Community Page for details.
4. Health Cloud Superbadge
5. Important Topics for Salesforce Health Cloud Accredited Professional Exam

5.1 Health Cloud Basic Setup (14 Questions)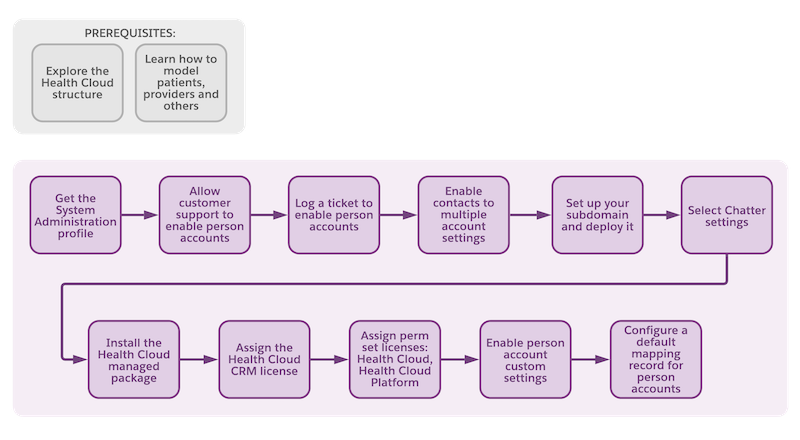 To be able to access Health Cloud, every user must have two permissions.

Health Cloud Permission Set License (PSL)
Health Cloud Platform PSL
Optionally, you can assign the Analytics Platform PSL if you plan to use CRM Analytics for Healthcare.
The Lightning Console app for Health Cloud allows you to view multiple records and their related records on the same screen.
To access and use a Lightning console app, users must have the Lightning Console User permission, and their profile must be added to the Lightning console app.
5.2 Security (3 Questions)
5.3 Care Management (Care Coordination) (7 Questions)
Care plans are practical, actionable steps to support the health of a patient. Care plans consist of problems, goals, tasks, and care teams.
Problem

: A problem is a clinical or nonclinical health issue identified as a priority for the patient. It can be a specific diagnosis identified by a care professional or a lab test.

Goal: A health goal represents a targeted outcome to be achieved by the patient in order to overcome the problem. A patient can have more than one goal associated with a problem.
Task: A task is the primary driver of a care plan. Tasks denote a measurable action toward a goal. They help track the progress of the activities associated with a problem.
Care team: A care team is the support hub of a patient's community. It consists of individuals and professionals who work together to improve the patient's health.
Care plan templates are standardized care plans with a list of actions tailored to a patient's specific health needs.
Care plan template are useful because:

They standardize the workflow and ensure integrated care.
They save time and minimize effort.
They personalize the experience for the patient.
They increase patient engagement, thus leading to stronger relationships with the patient.
5.3 Care Programs (Patient Services) (6 Questions)
Care programs offer guidance and support for a patient to proactively manage their health.
Health Cloud care programs help patients manage their health:

By providing education around how to make the most of a medication.
By sharing resources and providing training to ensure that medication is taken properly.
By arranging follow-up procedures to monitor progress.
By extending financial support and benefits investigation.
By sending adherence reminders through connected devices.
By conducting predictive analysis (through Einstein Analytics) to help detect adherence risks.
5.4 Providers (7 Questions)
Types of Provider Relationship Cards: You can set up two types of provider relationship cards to see the association between provider organizations and practitioners.
| What | Where | Why |
| --- | --- | --- |
| Provider cards for a facility | Account page | To see all the providers (contacts) that are associated with the account. |
| Relationship cards for a practitioner | Contact page | To see all the hospitals (accounts) that the practitioner is associated with. |
CareProviderSearchableField object holds a variety of information from certain fields in the provider data model, ensures faster provider searches.
5.5 Interoperability / Integration (7 Questions)
HL7 (Health Level Seven) refers to a set of international standards for transfer of clinical and administrative data between software applications used by various healthcare providers.
FHIR (Fast Healthcare Interoperability Resources) is a standard describing data formats and elements and an application programming interface for exchanging electronic health records.
HL7 V2 is referred simply as HL7 is the most popular mechanism for accessing EHR data
HL7 FHIR API referred simply as FHIR. Most significant release is the current one, FHIR R4. Health Cloud supports R4 as of Spring '21 release
Salesforce provides an HL7v2 ADT connector in Health Cloud
Health Cloud supports data exchange with EHRs that have HL7 interfaces like CorePoint and Cloverleaf that work on top of EHRs.
Health Cloud supports data exchange with FHIR enabled systems.
The Health Cloud does not contains a native FHIR interface for integration
Health Cloud needs to have data model to ingest FHIR data – which it has. With the FHIR-HC mappings published, Health Cloud can serve data as per FHIR specs using a middleware.
Packages leveraging the Claims data model (part of Payer functionality) require Salesforce Connect Licenses
The HL7 ADT Connector in Health Cloud is appropriate for less than 1,000 messages per hour.
5.6 Utilization Management / Persona Payer (7 Questions)
Health Cloud Utilization Management helps payer organizations connect utilization management and care management.

Providers can submit preauthorization requests to health insurance plans.
UM clinicians at the payer organization can review, evaluate, and escalate requests.
Medical directors can approve or deny requests.
With Health Cloud utilization management, you can:

Automate decisions based on medical policy, monitor service-level agreements (SLAs), improve decision making, and reduce manual intervention.
Reduce costs by delivering more appropriate care to members.
Transparently submit, process, review, and communicate authorizations by connecting providers, payers, and members.
Achieve optimal patient outcomes and contain medical costs through comprehensive support.
Improve the member experience and earn trust.
Health Cloud Utilization Management Permission Set needs to be assigned to the users for them to use UM.
The UM data model enables customers to streamline care requests. Agents, clinical professionals, and medical directors get guided workflows for UM processes, including:

Drug requests
Service requests
Admissions
Concurrent (continued stay) reviews
Appeals
Complaints and grievances
5.7 Intelligent Sales / Med Device (3 Questions)
Intelligent sales helps med tech sales teams ensure they've got the right products and the right reps at the right locations.
Sales agreements assist businesses and sales reps by providing them with insights into products, prices, discounts, and quantities based on a contract made with a customer agreeing to a price or quantity of products over a certain time.
Account forecasting in Health Cloud provides a clear picture of new and run-rate business based on orders, opportunities, sales agreements, contracts, and custom metrics.
The surgical case management visit is an operationally oriented visit. It helps sales reps manage all aspects of the surgical case including inventory availability, ordering, billing, patient registration, provider education, and consent among others.
How does Health Cloud intelligent sales for med tech help sales reps?

It ensures that products are available for surgical cases.
It allows sales reps to view surgical case visit details on the go from any device.
It helps reps execute visits with predefined tasks and out-of-the box flows that can be customized for each business.
It captures key notes and authorizes orders onsite (e-signature).
The serial inventory support in Health Cloud provides capability to accept product transfers for serial tracked products, ensure that the stock is tracked at serial number level, and capture serial number details for order authorization.
Assign the ActionPlans, Health Cloud Foundation, and Industries Visits permission sets to your users so that they can use Intelligent Sales.
5.8 Migration / Migrating to Health Cloud (6 Questions)
Traditional Account-Contact model cannot be used to model Patients/Members in Health Cloud
While the Individual Data Model continues to be supported by Health Cloud, the Person Account Model is the recommended Data Model for new implementations going forward
Moving From Service Cloud to Health Cloud

Step 1: How do you represent Patients or Members in your org today?

As Person Accounts: Proceed to the next question!

As traditional Contacts: Start evaluating how you'll migrate these records to Person
Accounts. (Found a blocker? Use the Individual model as your backup plan.)

Step 2: Which parts of the Health Cloud data model you will leverage?

Compare your current custom objects against Health Cloud objects. Consider level of effort, and migrate data to Health Cloud objects as required/appropriate.

Step 3: Which parts of the Health Cloud User Interface you will leverage?

Nearly all of Health Cloud is modularized, making it straightforward to add these components most anywhere in Salesforce.
6. Additional Resources
---
Recommended Articles