Salesforce Certified B2B Solution Architect Exam Guide.
Salesforce B2B Solution Architect certification is intended for individuals who have knowledge, skills, and experience architecting and driving multi-cloud B2B solutions that deliver business value for the customer.
Salesforce Certified B2B Solution Architect exam covers multiple products/features such as Sales Cloud, Service Cloud, Revenue Cloud (Salesforce CPQ & Billing), Field Service, Knowledge, B2B Commerce, Pardot, Financial Services Cloud, Experience Cloud, Manufacturing Cloud, Tableau CRM, Partner Relationship Management & MuleSoft.
1. About the Salesforce Certified B2B Solution Architect Exam
Content: 60 multiple-choice/multiple-select questions and 4 non-scored items
Time allotted to complete the exam: 120 minutes (one of the highest for Salesforce exam)
Passing score: 58% (35 out of 60 questions one of the lowest for Salesforce exam)
Registration fee: USD 400, plus applicable taxes as required per local law
Retake fee: USD 200, plus applicable taxes as required per local law
Prerequisite: Salesforce Certified Application Architect Certification

Encompasses the following pre-reqs

Platform App Builder
Platform Developer 1
Data Architecture and Management Designer
Sharing and Visibility Designer
2. Exam Outline
Discovery and Customer Success: 25%
Given a scenario in which a customer wants a B2B multi-cloud solution, document and articulate the business needs, value, and vision of the customer to support their desired business outcomes
Given the identified business needs, vision, and current customer landscape, define the future blueprint architecture of a B2B multi-cloud Salesforce solution in order to define the product roadmap
Given that a future blueprint architecture has been agreed upon, define the incremental steps necessary to reach the recommended future end state that supports business outcomes
Data Governance and Integration: 26%
Given a complex data architecture, define the data flows across systems, the methods and techniques to connect systems and the relationship each system has to the data it contains
Given the current architecture, define the strategy to migrate data, synchronize data across systems to support a multi-cloud B2B solution.
Given existing customer personas and the defined business requirements, design and map a sharing and visibility model for a B2B multi-cloud Salesforce solution.
Given customer expectations around data volumes, provide governance to satisfy business requirements
Design: 29%
Given information gathered during discovery, define the functional and technical solution, in line with Salesforce standards, keeping the business value and objectives in mind.
Given a set of business requirements, recommend an appropriate Salesforce multi-cloud or AppExchange solution.
Given a scenario, identify design options and their associated risks, assess their level of criticality, and recommend the solution that most accurately meets the specified functional and non-functional requirements
Given a scenario in which the design document is being shared, facilitate final acceptance from stakeholders by ensuring any concerns raised are adequately addressed
Given a defined future state B2B multi-cloud solution architecture alongside business requirements, choose the preferred method for integrating data across different clouds.
Delivery: 12%
When planning a B2B multi-cloud set of orgs and environments, define appropriate strategies that balance resources and effort to deliver an effective and efficient delivery method
When planning the steps involved in delivering a customer's business outcomes, ensure that there is a clear understanding from business requirements through to the delivered configuration
Given a scenario in which the designed solution is being implemented, provide the appropriate display of the capabilities of that solution to stakeholders (demos) that demonstrate continued alignment with the desired business outcomes and priorities
Operationalize the Solution: 8%
Given that a solution has been implemented, ensure that stakeholders are appropriately enabled to manage the solution moving forward (e.g., updating documentation, center of excellence, training)
Given a scenario in which a B2B multi-cloud solution has been implemented, determine how to further improve the solution to ensure business benefits are continuously realized
Determine how to facilitate adoption in order for the business to benefit from a B2B multi-cloud solution
3. Exam Guide
4. B2B Solution Architect Certification Trail
5. B2B Solution Architect Certification Trailmix
6. Important Topics for the B2B Solution Architect Exam
6.1 Discovery and Customer Success: 25% (15 Questions)
Customer Centric Discovery Steps

Know your customer – get to know your customer's industry and business
Be your customer – take a walk in your customer's shoes
Connect with your customer – share your insights with your customer
Create with your customer – develop a strategy with your customer
Three ways to conduct discovery

Embodying – live the experience
Shadowing – observe along the customer and ask questions
Interviewing – direct interviews to hear customer experiences

Four stages for using the guides to deliver cross-cloud B2B solutions

Get Started – define business goal
Assess your Needs – leveraging industry blueprints and reference architectures
Map your Goals – with B2B domain business scenarios
Deliver Solutions – leveraging Salesforce's Solution Kits

Business Scenarios – provide best practices for successfully implementing Salesforce products and their respective solutions. They contain:

Recommended Products
Solutions
Business Capabilities
Sub-Capabilities

B2B Customer Relationships
B2B Business Models

B2B
B2B2C
B2C2B
B2B and B2C Combines

Role of a Solution Architect

Business leadership: They guide companies on a multi-cloud solution journey for meaningful customer experiences.
Delivery leadership: They drive successful multi-cloud implementations on the Customer 360 platform using best practices based on use-case delivery knowledge and experience.
Technical leadership: They provide technical expertise by selecting the multi-cloud product features that best align with a company's vision and business value goals.
Steps to Successful Digital Transformation
Capability Readiness Model

Unstructured
Disciplined
Repeatable
Buyer Centric
Customer Driven

Capabilities to plan for transformation

Journey Mapping
Business Process Mapping
Business Analyst
Architecture Diagram

Core tenets of digital transformation
Salesforce recommends using the LEVERS model to drive change management

Leadership
Ecosystem
Values
Enablement
Rewards
Structure
6.2 Data Governance and Integration: 26% (15 Questions)
B2B System Integration
B2B Core Features
Systems of Engagement Framework

System of Record – ERP, CRM
System of Reference – Process Automation, Data Warehouse
System of Intelligence – Machine Learning, Analytics
System of Engagement – Sales Cloud, Service Cloud, Communities

B2B Commerce on Lightning Experience key features

Lightning Commerce Template – Easily set up and deploy commerce storefronts
Lightning Internal Storefront Administrator UI – Manage and support commerce storefronts
Digital Experience Platform – Create personalized shopping experiences
Consumer-like search – B2B Commerce search uses the best-in-class technology from B2C Commerce
Experience Builder for B2B Commerce – Quickly and easily build storefronts with drag-and-drop components
Standard Objects for B2B Commerce – B2B Commerce objects, such as the cart, product, and category objects, are uniform across Salesforce

You do not incur a CMS content record limit if you're using images via external URLs with B2B Product Media
System of Record for B2B Commerce Implementation

Migrate data and synchronize data across systems to support a multi-cloud B2B solution

Multi-Org Architecture Models

Hub and Spoke Model
PubSub / ESB Mode
Organic / Chainlink / Point to Point Model

Multi-Org Patterns

Salesforce Connect
Event Bus
Middleware (Mulesoft)
Data Hub (Heroku)

Muti-Org Technologies

Data Synchronization

REST API
Salesforce Connect
Heroku Connect

Event Driven Architecture

Platform Events
External Services
Change Data Capture

Data Orchestration Platforms

MuleSoft
Informatica
Jitterbit
Dell Boomi

Multi-Org Security Summary app lets you analyze and manage security across all of your Salesforce Orgs
Recommend source of truth for Product & Pricing information is a given Multi-Cloud Use Case – Is it Revenue Cloud (Salesforce CPQ)?
Large Data Volumes

You can query and process up to 50 million records using Batch Apex
A bulk query can retrieve up to 15 GB of data, divided into fifteen 1 GB files
If the Bulk Query doesn't execute within the standard two-minute timeout limit, the job fails and a QUERY_TIMEOUT error is returned
Use PK Chunking header to split the bulk query results into smaller chunks

Three Types of Data Skew

Account Data Skew
Ownership Skew
Lookup Skew

6.3 Design: 29% (18 Questions)
Recommend no code vs low code solutions for a give Multi-Cloud Use Case
B2B Product Fundamentals
Einstein Bots
Einstein Next Best Action
Field Service Lifecycle
Field Service Preventive Maintenance
Multi-Cloud Asset Lifecycle Management

Quote > Order > Work Order > Locations -> Replenish

What is an Asset? – Whatever can be sold in Salesforce as a product can is an asset
Salesforce Integration Patterns for B2B multi-cloud use case
Benefits of API led Integration – API led connectivity is a methodical way to connect applications, data, and devices through reusable and purposeful APIs instead of point-to-point integration. Some of the key benefits of API-led connectivity are:

Clear contracts between systems
Reusability
Discoverability
Visibility and security
Availability and resiliency
MuleSoft Accelerators for Commerce Cloud
Given a scenario recommend appropriate Salesforce License Type
Given a Multi-Cloud Use Case recommend appropriate Experience Cloud License
Multi-Cloud Product and Pricing Management
Multi-Cloud Enterprise Content Management
Multi-Cloud B2B Sales Forecasting
Product and Price Syncing
There are three Channel Options to consider when integrating Revenue Cloud and B2B Commerce

Separate Channel
Connected Channel
Blended Channel (Recommended Option)

Revenue Cloud and B2B Commerce Connector

Available as an unmanaged package on Salesforce Labs
Supports two methods for converting commerce carts to CPQ Quotes:

Basic method – initiated from the cart page and directly creates a CPQ quote from the buyer cart.
Advanced method – pushes the buyer to proceed through a portion of the checkout flow where they can select their address, shipping method, etc. in the checkout flow prior to the creation of the CPQ quote

Elements not supported by Revenue Cloud and B2B Commerce Connector

Contract Management
Tiered Pricing
Complex Product Bundles

If ERP is the product and pricing master, all product and pricing info needs to be synced to Salesforce CPQ and the connector is expected to push the data to B2B Commerce
B2B Commerce shouldn't be directly integrating with the ERP, as the functionality supported in the connector assume CPQ to be the source for publishing data to B2B Commerce
If the ERP is the target application for downstream order fulfillment, the CPQ Order object should be utilized as the exit and entry point from and to Salesforce.
Cart to Quote

Opportunity and CPQ Objects should not be owned by community user

Cart to Cash

If an external Tax engine like Avalara, Vertex, Sabrix, etc is used, then both B2B and Billing should have integrations with the Tax engine to avoid any discrepancies
Orders is the intersection object between the CPQ package and Salesforce billing

Cart to Agreement

Quote object is the key connecting point between B2B and CPQ that flows to Manufacturing Cloud

Salesforce Manufacturing Cloud brings sales and operations teams together around a unified view of market and customer demands to more accurately forecast, plan, and drive predictable business performance
Revenue Cloud Revenue Models

One-Time Sales
Subscriptions
Usage-Based Pricing
Configurable Bundles
Professional Services

Assets consumed are customer-owned where as Stock consumed is company-owned
Linking product consumed records to product items ensures tracking of the entire lifecycle of items in inventory, including their storage, transfer, and consumption. Leaving the product item blank and specifying a pricebook entry will only track consumption
In order for the inventory management data to flow from field service to sales-related products, you need to associate products consumed with pricebook entries. This allows those pricebook entries to be mapped to either opportunity line items or quote line items.
Field Service Management Product Pillars

Mobile – Mobile App, Flows
Resource – Scheduling, Dispatch
Asset – Inventory Management, Maintenance Plans
Foundation – Work Order Management, Work Types

Asset 360 is a package built by ServiceMax on top of Salesforce Field Service. Asset 360 benefits:

Complete visibility into install base, service contracts, and asset performance
Maximize equipment uptime
Reduce maintenance costs
Adopt outcome-based service models
Service Cloud for Salesforce CPQ Integration Package

a managed package that provides Sales Contract features to Service Cloud users
replaces Contracts with Service Contracts and Subscriptions with Service Contract Line Items
provide a bridge for the Sales to Service handoff using Service Contracts

Configuration to Installation Flow (Quote-to-Order-to-Installation)

Quote -> Oder -> Service Contract -> Work Order -> Service Appointment

CPQ and FSL Considerations

The Quoting interface is made of CPQ Visualforce pages and not available in FSL Mobile
Product and Pricing Rules are not preserved in FSL

A bill of materials (BOM) is a comprehensive inventory of the raw materials, assemblies, subassemblies, parts, and components, as well as the quantities of each, needed to manufacture a product
ERP in B2B Customer 360

Direct Sales Teams utilizes two products: Sales Cloud and Revenue Cloud
Indirect Sales Teams utilizes two products: PRM and B2B Commerce

Synchronize Order, Invoice and Product information from ERP to Salesforce
Salesforce should be your source of record for Customer Hierarchies
Salesforce should remain the master source for contact data
Salesforce as a System of Engagement and ERP as a System of Record/Reference
Warranty data can be stored in a Custom Object attached to Assets within Salesforce

Quote Object is the trigger to send information from CPQ to ERP
6.4 Delivery: 12% (7 Questions)
Atlassian Agile Basics
Agile teams go through four key phases as they develop

Forming
Storming
Norming
Performing

Three Product Phases
Agile Ceremonies

Sprint Planning
Daily Standup
Iteration Review
Retrospective

Key stakeholder and deliverables of discovery sessions
Salesforce Release Readiness Strategies
Pardot
B2B Marketing has more informational content that's driven by decisions based on bottom-line revenue impact
B2B Marketing

For direct sales (sales team selling directly to accounts within the B2B context) use cases use Sales Cloud
For indirect sales (B2B buyers coming in through a commerce tool) use cases use B2B Commerce

Demo a solution
6.5 Operationalize the Solution: 8% (5 Questions)
User Training
Create a Communication Plan

Pre-Launch
Launch
Post Launch

Training Plan

Identify your audience
Determine Training Scenarios
Define a Training Plan

Training Program can consist of

Learning Paths
In-App Guidance
Trailhead App for Slack
Help Menu

User Adoption
Salesforce Center of Excellence Benefits

Prioritize Across Teams – requirements are balanced against available timelines and resources
Streamline Processes – select best practices from across multiple teams
Plan for Growth – scalable solutions
Reduce Risk – decisions are made across wide range of opinions and approaches
7. Other Useful Resources
B2B Solution Architect Training in Partner Learning Camp. (Available only to Salesforce partners. Complete the course before Nov 30, 2021 to be eligible for $400 B2B Solution Architect Certification Voucher)
I hope you find this guide useful for Salesforce Certified B2B Solution Architect exam preparation. Feel free to share this article on social media and tag me in your post!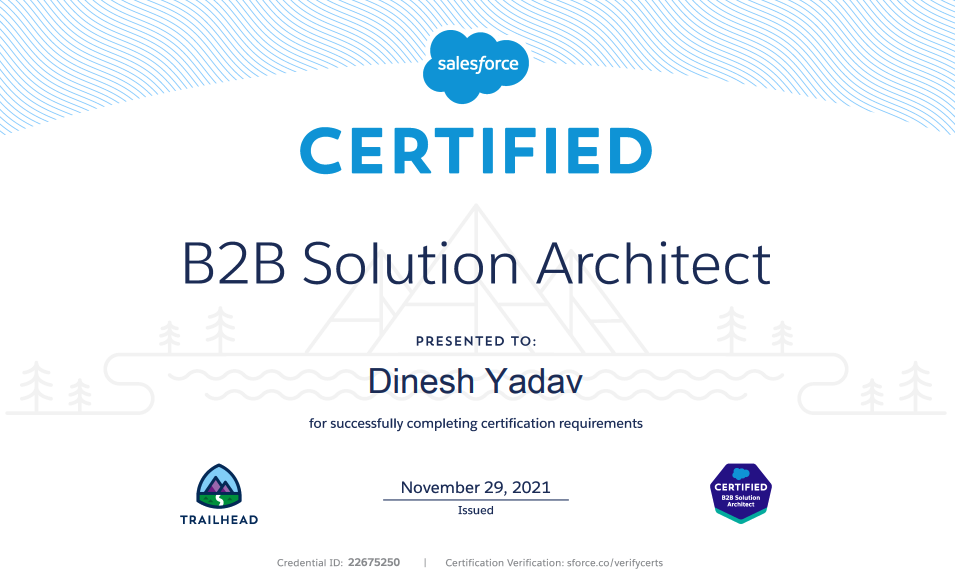 Recommended Articles