Tableau CRM is now Salesforce's CRM Analytics.
At World Tour Washington, D.C., Salesforce launched CRM Analytics with new innovations that surface AI-powered, actionable insights directly in the flow of work. These technologies help sales leaders, service leaders, and employees across any industry — including financial services, manufacturing, consumer goods, and communications — put data at the center of every customer relationship and ultimately, deliver more personalized experiences.
Salesforce's CRM Analytics, formerly known as Tableau CRM, helps turn customer-facing teams across industries into trusted advisors by allowing them to collaborate and act on AI-powered predictions and prescriptive recommendations. CRM Analytics innovations announced today include:
CRM Analytics App for Slack puts data at the center of every conversation by integrating directly into an employee's workflow, making analytics more visible, collaborative, and actionable.
Predictions in Slack surfaces aggregated predictions from Salesforce Reports directly into the Slack workflow to help people better analyze deals at risk, customers at risk of leaving or invoices at risk of getting delayed.
Search Insights uses natural language to search from the analytics landing page within CRM Analytics. Search Insights also helps all Salesforce customers* discover any dashboard, dataset, and next best groupings related to the search.
Energy & Utilities Analytics provides deeper insights into Energy & Utilities sales processes, such as opportunities likely to close. This reduces time to quote with guided, flexible, and actionable next steps built into the Salesforce workflow.
In February, Salesforce announced Revenue Intelligence, bringing Sales Cloud together with CRM Analytics for a unified revenue management command center that equips sales leaders with insights throughout the sales and revenue cycles. With Revenue Intelligence, teams receive AI-led insights on deals that have higher likelihood to convert, and deeper visibility into how their forecast is changing over time. In Summer '22, Salesforce will introduce four new, industry-tailored versions of Revenue Intelligence, including:
Financial Services Intelligence for Financial Services Cloud offers a complete intelligence platform for wealth, banking, and finance with pre-built industry KPIs and best practices.
Manufacturing Intelligence for Manufacturing Cloud allows people to understand account profiles and build a unified view of their value chain with 50+ out-of-the-box metrics.
Consumer Goods Intelligence for Consumer Goods Cloud delivers relevant descriptive and predictive analytics (BI+AI) powered by Einstein Discovery for strategic, operational, and tactical insights.
Communications Intelligence for Communications Cloud provides AI-powered advanced analytics for Communications Service Providers.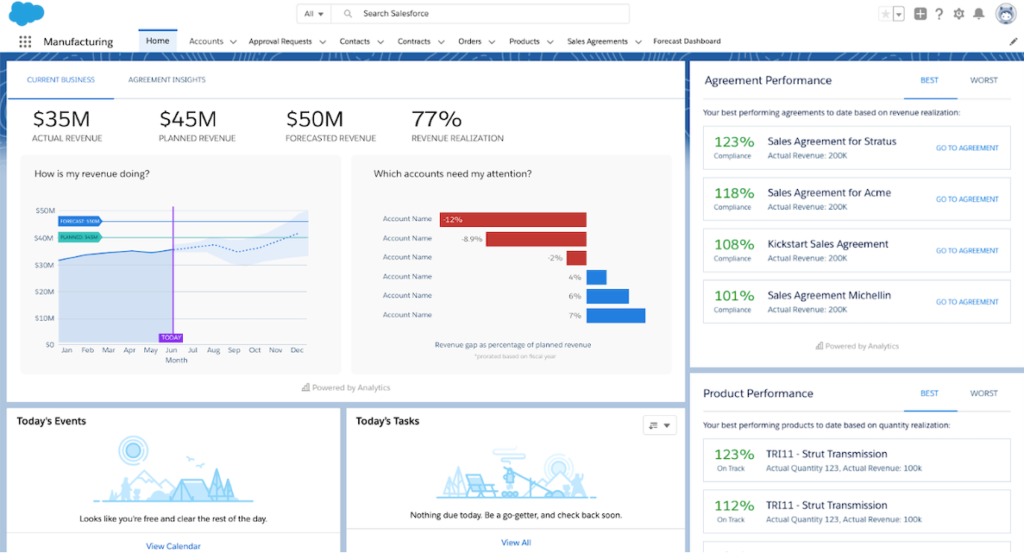 You can read the full press release here.
---
Recommended Articles